Kenektid Flagship Store, Seoul, South Korea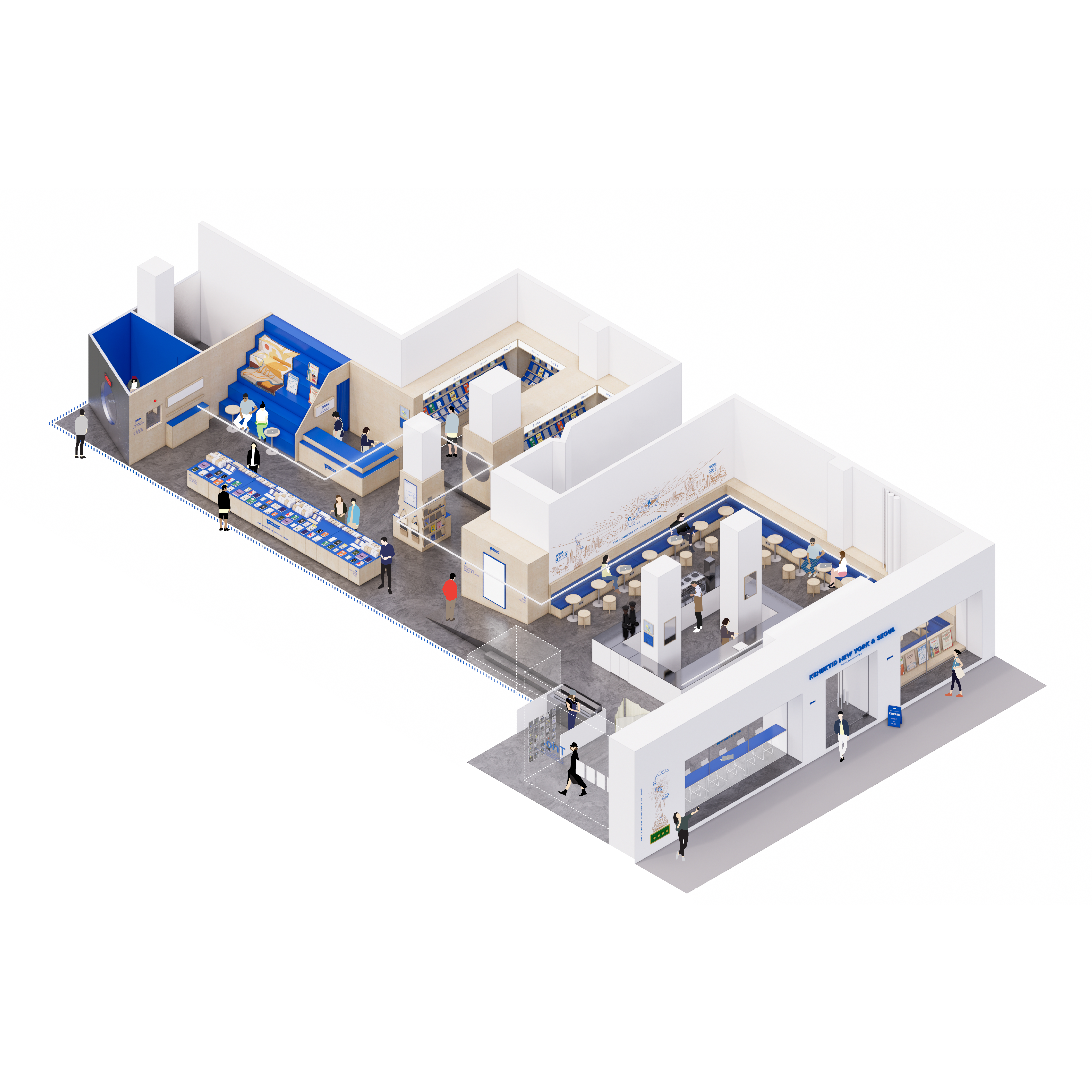 Other Projects designed Kenektid's Flagship Store at Lotte Young Plaza in the Myeong-dong neighborhood, a prime shopping district in the heart of Seoul. Kenektid is a cultural organization with roots as an independent bookstore in Seoul and an art gallery in New York, with a mission to serve as a platform to connect creators, readers, and bookstores, as well as bridge the gap between analog media and digital technology—from independent books, films, and vinyl records, to experimental art and live stream podcasting. The new flagship store seeks to incorporate characteristics from its other stores, establish a marketplace and coworking space for individual creators, and provide a flexible space for hosting local community events, including an annual city-wide book fair in Korea and a pop-up gallery.
Occupying a former Sephora store, the Kenektid Flagship store includes a bookstore, publishing workshop, tribune seating, cafe, podcast station, DJ booth, and an art gallery. The store can be accessed via the storefront along Namdaemun-ro 7-gil or through the Lotte Young Plaza department store.
Inspired by the industrial character of Kenektid's original stores in Seoul and New York City, the existing walls, ceilings, and mechanical systems in the space are intentionally left exposed and only lightly touched up with white paint. A continuous wooden element, clad in white oak wraps around the entire store to tie the different zones together, along with loose display units and chairs that can be reconfigured to host different events. Within the bookstore, the meandering wooden element acts as a wall, shelf, counter, display unit, and tribune seating. Extending into the cafe, the wooden element becomes a continuous bench. Within the cafe, the coffee bar, DJ booth, and gallery space feature a muted palette of white lacquered MDF panels and stainless steel countertops.
Cobalt Blue, the signature color of Kenektid's brand identity, is selectively applied to different surfaces as an accent throughout the space. A linear lighting fixture highlights the proposed path and helps customers navigate between the different zones of the store. Artwork and graphics created by Kenektid's founder Ilrae Kim is displayed throughout the store, including signage on the storefront and a large-scale mural on the cafe wall.
Kenektid's Flagship Store at Lotte Young Plaza embodies the characteristics of its original locations in Seoul and New York. A continuous wooden ribbon wraps around the space to unify the different zones. Designed as a cultural hub, the Kenektid Flagship Store invites patrons to come read, write, publish, talk, gather, connect, and seeks to promote printed books as a cultural artifact.

Location: Seoul, South Korea
Client: Kenektid
Year: 2021-2022
Status: Completed 2022
Scope: Interior Design
Program: Retail
Size: 3,400sf (315sqm)
Team: Kelvin Ho, Nicolas Lee, in collaboration with Ilrae Kim